About the Firm
Fusco & Clarke Handles a Wide Range of Legal Matters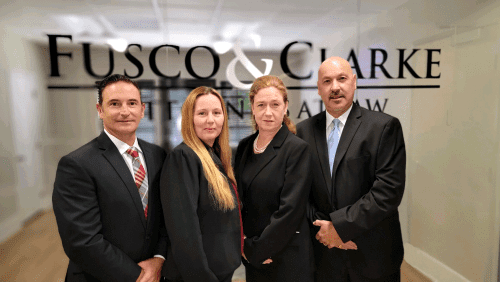 Family law encompasses a wide variety of issues that can arise in a family setting. There are many others that need the assistance of a family attorney to assist in resolving the matter. Fusco & Clarke provide families with over 60 years of combined experience helping families to resolve their differences and other family issues. Whether you are considering divorce and need assistance in determining whether to file a contested divorce or uncontested divorce or simply a legal separation, we can help.
We also offer services in:
For those with children, other important matters need to be reviewed, including child custody, child custody modifications, child support, child support modifications, relocation, enforcement of court orders, enforcement of settlement agreements, and father's rights.
Most family issues can be emotional and painful to face. When you have a caring and compassionate attorney working on your behalf, it can help greatly in resolving differences and reaching agreements on specific issues. We understand how difficult a time a family law matter can be for most individuals, and that is why we take the time to find out what your goals are in resolving your specific issue. We then work with you in determining the best course of action to take that will bring the optimum outcome for you and your family. Let us help with your family law matter today by calling our office for a confidential consultation.
Contact Fusco & Clarke today to schedule your initial consultation!