Grandparents' Rights Lawyer in Burbank
Understand Your Rights as a Grandparent in California
When you love your grandchildren, you want to do what is best for them in whatever way you can. Sometimes complicated situations make it difficult to see your grandchildren or be as activ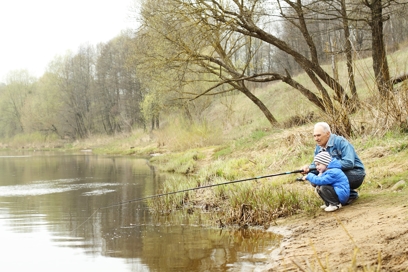 e in their lives as you wish to be. If you are being prevented from seeing your grandchildren by one of their parents, or some other circumstances prevent you from contacting them, you may have the right to take legal action. In the state of California, under certain circumstances, grandparents may petition the court for legal rights to visitation, or even custody. Reach out to our lawyers to find out if your situation qualifies you for certain legal rights as a grandparent.
Call our child custody lawyers at (818) 672-1562 to get started.
Grandparents & Visitation Rights
The court is always trying to act in the best interest of the child, and in doing so will only allow grandparents visitation rights under certain situations. In situations where the parents remain together and both choose not to allow the grandparents visitation, the court will side with the parents believing it is in the best interest of the child. That being said, there are plenty of other conditions which may allow grandparents more rights.
In California, grandparents may pursue visitation rights with their grandchildren under any of the following circumstances:
The parents are separated or divorced
One parent has been incarcerated or involuntarily institutionalized
One parent's whereabouts have been unknown for at least one month
One parent sides with the grandparents in their request for visitation
The child does not live with either parent
The child has been adopted by a stepparent
Grandparents may ask for visitation rights for as long as these conditions exist. For example, if the child returns to live with his or her parents, the grandparents' visitation rights may be terminated. This is why it is so crucial to seek the help of an experienced custody lawyer. At Fusco & Clarke, our family attorneys will work to see your rights as a grandparent exercised in the best interest of your grandchildren.
Other Considerations for Grandparents Visitation
Once it has been established that one or more of the criteria for grandparents' rights have been met, the court will examine other factors to ascertain the best interest of the child. In order to do so, the court will look at the contact between the grandparents and grandchild to see if there exists an established relationship. If the child is 14 years old or older, the judge will also ask the opinion of the child. The court will also look at the child's health and safety, as well as any history of domestic abuse, or drug or alcohol abuse by any person seeking custody or visitation, including parents and grandparents.
Grandparents Seeking Custody of a Grandchild
In the event that the parents are unable to provide a good home for their child, grandparents may seek custody. The court will always try to place children with either parent whenever possible, but if they are proven incapable or unwilling to provide a safe, stable environment, grandparents can seek legal custody, even if they do not currently have physical custody. There are many situations where California grandparents take care of their grandparents in their own home because the parents are absent or otherwise unable. Our custody attorneys can help you establish your rights as a grandparent so that you can take care of your grandchild.
Chose Fusco & Clarke
At Fusco & Clarke, we understand how difficult it is to deal with family legal matters, especially when children are involved. It is our goal to help you to the best of our ability so that you can provide your grandchildren with the love and care they deserve. Whether you are hoping to gain visitation rights or you are seeking custody, we can help. Even if your grandchildren were adopted, there still may be legal options for you to obtain visitation rights. Our firm has more than 50 years of experience helping families with child custody, divorce, and juvenile law issues.
Contact Fusco & Clarke to get started on your grandparents' rights case today.